Embark on a Seattle Performance Tour
Known for its rainy weather and the iconic Space Needle, Seattle is a city of expression and adventure. The nearby mountains and evergreen forests are a sight to see, but there's also a variety of fun activities in the city for everyone to enjoy. More importantly, Seattle has several opportunities to see public or theater performances. So, head out on a Seattle performance tour to experience the unique culture of this popular Washington city.
#1 Seattle Center
The Seattle Center has served as an area for art fans, educational enthusiasts, and entertainment devotees to gather for almost 60 years. The Center, which spans over 74-acres of land, was originally developed for the World's Fair in 1962, and has since transformed into an active community center. Some of the Seattle Center's best attractions are the several performance venues available and the various public art displays and galleries they have to experience. The Seattle Center even offers opportunities to see a public performance during your visit. With so much to do and see here, you'll be busy for hours adventuring through the many activities this cultural center provides. 

#2 Experience Music Project
The Experience Music Project, which is now called MoPop (Museum of Pop Culture), is a non-profit museum that highlights contemporary popular culture throughout history. The name of the museum has been changed several times, but was originally founded by Microsoft's co-founder, Paul Allen, in the year 2000 under the name Experience Music Project Museum. Since it's development, the museum has made it their mission to "make creative expression a life-changing force by offering experiences that inspire and connect our communities." As a way to carry out this goal, MoPop has organized dozens of exhibits which feature artists from popular culture and the historical work they created. Aside from their musical and game exhibits, they also show movies and provide other interactive experiences for their guests. Some of their current exhibits include:
Pearl Jam: Home and Away  

Nirvana: Taking Punk to the Masses

Hendrix: Wild Blue Angel

Sound Lab

Indie Game Revolution
#3 Pike Place Market
The Pike Place Market is famous in the U.S. for being one of the nation's oldest, continuously operated public farmer's markets. The Market, which opened August 17, 1907, is a public market-place that overlooks the Elliot Bay waterfront in Seattle, Washington. However, many Seattle residents see the Market as more than just a public shopping area for locals. It's also a community consisting of hundreds of farmers, crafters, small business owners and entrepreneurs, and residents. And each of these groups has played a major role in the Pike Place Neighborhood which has helped to sustain the Market as an entire community. There are several different local shops and farmers to purchase from, which gives visitors a better sense of the strong community that resides here. Also, there are many social services, such as a food bank, preschool, senior center, and clinic, that are essential assets to the neighborhood.  
#4 The Space Needle
The Space Needle is the most iconic piece of architecture found in Seattle, Washington. It's an observation tower nestled in the Seattle Center and was originally built for the 1962 World's Fair. The city landmark stands a staggering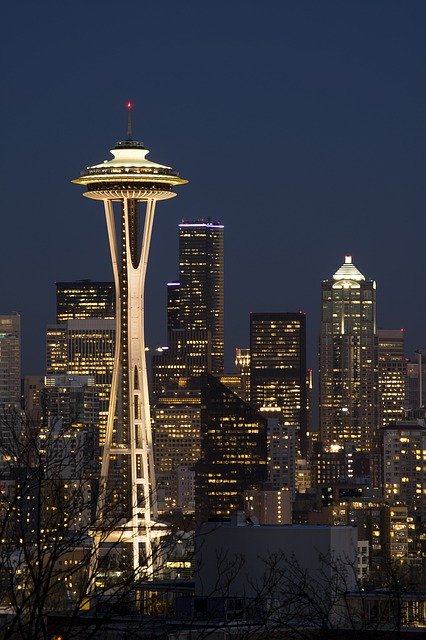 605' tall and offers a beautiful 360* view of the mountains, forests, and city life of Seattle. As an iconic piece of art, the Space Needle is truly a sight to see and the tower even has a rotating restaurant that allows guests to enjoy the city while also enjoying a nice meal. This is a must-do experience that is sure to wow any crowd.
#5 Benaroya Hall
Finally, if you get the chance to go on a Seattle performance tour, be sure to visit Benaroya Hall. Benaroya Hall has been the home of the Seattle Symphony, a widely popular American orchestra, since 1998. It features two seated performance areas, one of which seats 2,500 spectators while the other seats 536. The S. Mark Taper Foundation Auditorium seats 2,500 guests and was designed to provide unparalleled acoustics and an elegant aesthetic. Contrastingly, the Illsley Ball Nordstrom Recital Hall is smaller in size, but provides guests with a warm and inviting auditorium  that allows for a more interactive experience.
Connect with Us to Plan Your Seattle Performance Tour 
Start planning your Seattle performance tour today! Contact us for a free quote and we'll help you develop an itinerary that's designed specifically to meet your needs. You won't want to miss out on the adventure of discovering all that Seattle has to offer.