Educational field trips are priceless learning opportunities for students to experience the world outside the classroom. But getting there? That does require some creative funding. It's no secret that most teachers receive limited financial aid from their school districts. To overcome this hurdle, we recommend organizing fundraisers to fill in the gaps. Fundraising for student travel can teach students how to collect and save money to assist in the trip cost, and it gives them a tangible goal to work towards. Check out these handy fundraising ideas to start saving for student adventures of the future!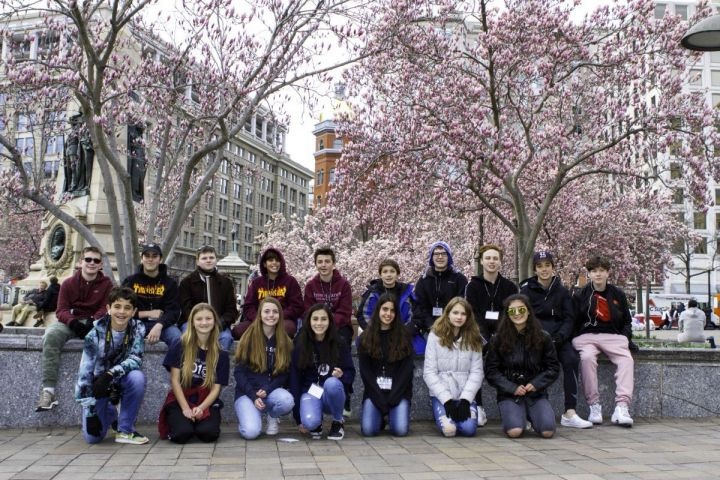 Create a Crowdfunding Campaign
This might be the first method that pops into your mind, and for good reason. Crowdfunding campaigns can have immense reach once shared on social media. Relatives, friends, and people just yearning to donate to a noble cause are likely to visit your donation link to help your students achieve their travel goals. There are several crowdfunding websites out there, even some specific to fundraising for educational travel.
Host an After School Gymnasium Event
Whether it's a parent-child movie night, silent auction, or spaghetti feed, after school events are an effective way to gather large groups of contributors. By charging a small entry fee, you can leverage the number of people to collect a good chunk of money by the time the night is over.
Dial Up Local Businesses
Ask local restaurants, law offices, or manufacturing companies to match donations made by parents to help fund the trip. As an added bonus, their business can be recognized as a sponsor, and those involved can promote the business by word of mouth.
Set up a Tour Bank Account
With a little forethought, a class bank account can be set up well in advance of the trip to spread out the cost over many months. Students can contribute $1-$5 per week, which is often more manageable than a lump sum. It's also fun to see the progress of the financial goal, so draw up a quick bar graph to stoke enthusiasm as students watch the dollar amount grow.
Bake Sale
The classic bake sale: a staple of school fundraising for decades! Stick with tradition, or re-imagine the offering by selling candy, magazines, or raffle tickets for a chance to win awesome prizes.
Apply for Scholarships & Grants
This is one of those unique fundraiser ideas for high school students traveling abroad. School guidance counselors often have insight on how to effectively apply for available scholarships and grants, since they see similar situations when students apply for college financial aid. We encourage students to check out the broad range of scholarships out there – you never know what you may qualify for!
Do Yard Work
Prepare to get your hands dirty and lend a hand to your neighbors! By going around door-to-door, you can efficiently gather a list of neighbors who want their lawn mowed, curb weeded, or plants watered. By doing a generous act, you're likely to receive a generous donation in return.
Put on a _____-athon
Marathons, jump-rope-athons, read-athons. These are all fair game! Competition brings out heightened emotions towards a cause. Entry fees can go primarily towards trip funding, while the remainder can be put towards great prizes for contenders.
Host a Tournament
Who doesn't love getting active and raising money for a cause? Whether it's a tennis, kickball, or cardboard boat tournament, people enjoy coming out to participate and watch. By offering concessions and charging a small fee at the door, it's possible to put on a great event and contribute a notable portion towards the educational travel fund.
Car Wash
If the weather is nice, host a class car wash! You can set up right at school if there's good traffic, otherwise, try hosting it on a vacant lot or empty parking lot (with permission). People will leave knowing they've donated to a great cause, and thank you for making their car sparkling clean.
Invest in Priceless Student Experiences
The question of how to fund educational travel can be daunting to start, but persistence and a little creativity go a long way towards accomplishing your school's financial goal. These fundraising ideas will hopefully inspire unity, because every trip is a group effort. In recognition of all the hard work our teachers do to provide students with a lifelong learning opportunity, Educational Discovery Tours implements a "Teachers Travel Free" policy on all packages. It's our job to handle the logistics behind the trip, and our goal to make it as simple as possible to get students out into the world to learn. Our knowledgeable organizers are available to answer any questions you may have about how to fund student travel, or anything else trip-related! Get in touch with Educational Discovery Tours to start turning your idea into a reality.