Are you planning a Midwest high school band trip or high school choir trip? If so, a student performance tour to Chicago must be on the top of your list! With a rich musical history, large numbers of current performers in the city, and plenty of sightseeing and activities, Chicago is a great destination for any music performance tours.
Chicago's Musical Roots
The "Great Migration", the relocation of over six million African-Americans from rural cities of the south to urban centers in the north was a catalyst that created the sharing of traditional jazz and blues music. This music evolved into Chicago blues and "Chicago-style" Dixieland jazz. Some of the most famous Chicagoland blues artists include Muddy Waters, Junior Wells, Howlin' Wolf and both Sonny Boy Williamsons. Jazz greats such as Nat King Cole, Gene Ammons and Benny Goodman also frequented Chicago venues often. This rich musical history lends itself in making Chicago one of the best historical stops for performing tour groups.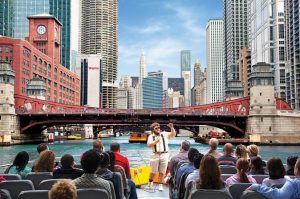 Today, Chicago still has an exciting and creative music culture. Musicians from surviving eras of jazz perform regularly in the city, release recordings, tour nationally and internationally. The annual Chicago Jazz Festival has featured Miles Davis, Sonny Rollins, Ella Fitzgerald, Anthony Braxton and Betty Carter Lionel Hampton – some of the country's brightest music stars.
Student performance tour groups have the opportunity to see several different orchestras while touring Chicago, including the Chicago Symphony Orchestra, the Lyric Opera of Chicago and the Chicago Sinfonietta.
Not only does Chicago have historic jazz roots, but it remains a hot music destination for the current hip-hop scene. The hip hop of Chicago, sometimes called Chi-town in the rap industry, includes rappers like Kanye West, Cupcakke, Twista, Common, Chance the Rapper, Lupe Fiasco, Da Brat, Yung Berg, Chief Keef and Shawnna.
Chicago Performance Opportunities for Student Trips
Chicago offers the chance for your students to perform publicly, following in the footsteps of music's greats. Performing opportunities can be arranged in Chicago at local schools and universities, the Field Museum of Natural History or at the Navy Pier. May through early June, Music In The Parks festivals take place at Six Flags Great America, and offer yet another great student performance destination.
Sightseeing and Activities
Beyond the many musical and performance opportunities in Chicago, students can also take part in great sightseeing activities. Chicago sightseeing highlights for high school performing groups include watching the Blue Man group at the Briar Street Theatre, visiting the Lincoln Park Zoo, seeing a Chicago Cubs baseball game at Wrigley Field or shopping on the Magnificent Mile.
Chicago is also known for its' many museums such as the Museum of Contemporary Art, the Dusable Museum of African American History, Adler Planetarium, the National Museum of Mexican Art and the Museum of Contemporary Photography. The plentiful list of museums provides just one more way for your students to learn about the rich history of Chicago and the midwest.
*Information sourced from Chicago Convention and Visitors Bureau and Wikipedia